Keeping you whole
from head to toe
From routine check-ups to unexpected emergencies, you can enjoy peace of mind knowing we have you covered every step of the way.
Find a Provider
Federal Marketplace Plans
You may qualify for federal subsidies that can be put toward your health insurance plans.

Find us on the Federal Marketplace to choose a dental plan that gives you excellent dental coverage within your budget.
Shop Marketplace Plans
Group Plans
Choose from a variety of medical, dental, vision, and telemedicine plans for you and your employees.
Shop Group Plans
Individual & Family Plans
Affordable ways to protect you and your family when you don't have employer-sponsored benefits.

Dental, vision, and telemedicine plans are available as individual plans for you and your family.
Shop Individual Plans
Senior Plans
Medicare Supplement plans, senior dental plans, senior vision plans, and a hearing aid discount program are available to give you peace of mind and save you money during retirement.
Shop Senior Plans
Now Offering
Virtual and In-person Mental Health Coaching and Therapy
In pursuit of an easier, faster way to access mental health providers, EMI Health is thrilled to have partnered with Lyra!
Lyra provides personalized health coaching and therapy for adults via live video or in person. This online platform assists in navigating issues such as stress, anxiety, depression, substance abuse, relationship challenges, and more.
Learn more about Lyra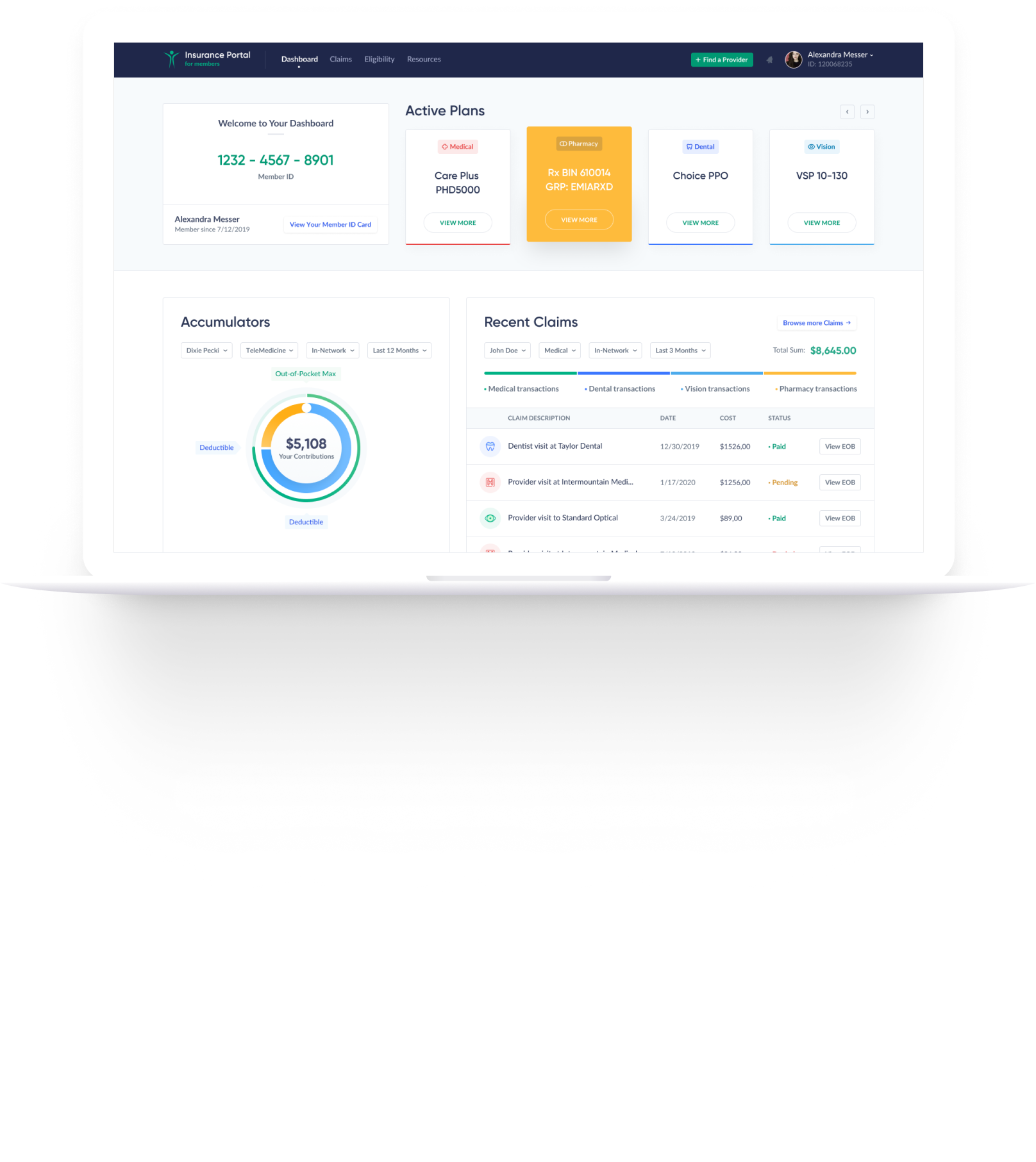 Your member experience matters
Your member portal gives you a beautifully simple way to see how your benefits are working for you.

Your portal includes several tools designed to give you more transparency into your healthcare costs and show you at a glance how your plan is working for you.
Sign in
Your benefits are with you, wherever you go
Download the EMI Health mobile app to carry your benefits with you wherever you (and your phone) are headed.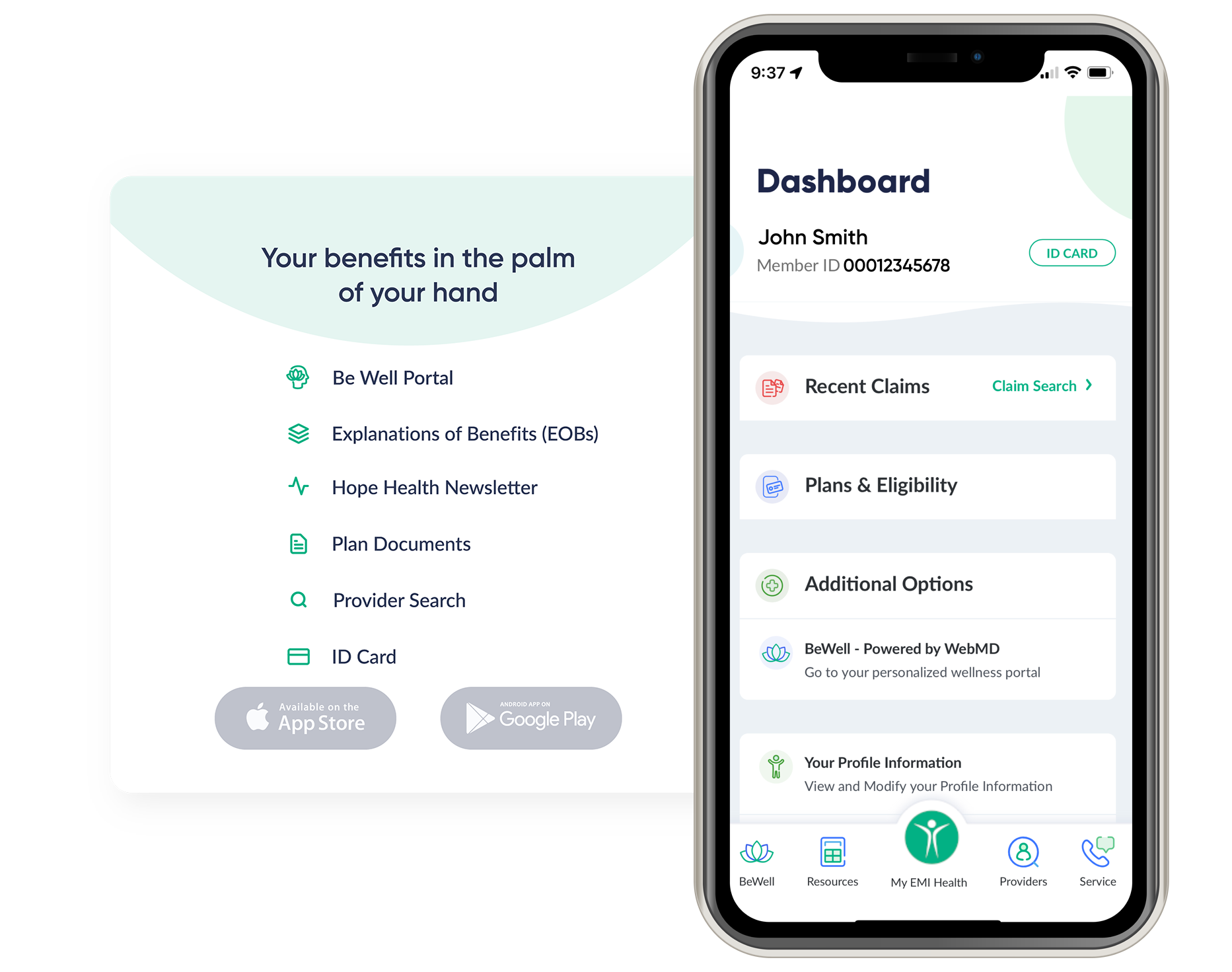 Your member experience matters
Of course we would recommend ourselves, but let's cut through the clever marketing and show you what real members have to say.
Joe L.
Covered Member
"The EMI Health staff was very helpful. I have been a member for 2 years and never had a bad experience. Their staff is kind and patient and always helpful. Whether paying a bill or answering any questions about my plan, EMI Health is truly a company that cares. I thank the entire EMI Health team for all their hard work in making me feel like one of their most valuable customers."
Nichole S.
Covered Member
"Calling customer service is not something I look forward to, but EMI customer service is quick, helpful, and friendly. I appreciate knowing that when I call customer service, I'll get a friendly and understandable person on the other side of the line within a few minutes and don't have to search through a phone directory for long to do so. I get answers quickly from a person who is reviewing my benefits directly. They explain benefits and pricing to me and make sure I understand what my costs are moving forward."
Greg V.
Covered Member
"First I wanted to extend our gratitude and praise for a job very well done regarding our health insurance. We saved a small amount on total premium and reduced the deductible by 50% while cutting the maximum out of pocket, we consolidated all health and wellness benefits through one provider, one insurance card and we have experienced simply amazing service from the EMI Health team."
Tiffany N.
Covered Member
"EMI Health is always a pleasure to work with. I've never known an insurance provider to be as helpful, kind, critically analyze situations, and efficient as the people at EMI Health. Not just one or two, but all of them are excellent to work with."
Jennalyn H.
Covered Member
"My husband and I are expecting our first baby, and I have had many questions about our coverage. Each time I've called, I've spoken with a different person, and they are always patient and helpful in answering my questions. I appreciate their quick and professional response!"
Michael M.
Covered Member
Who loves calling their insurance company to understand your EOB? Usually I hang up the phone more frustrated and with more questions than I started with. Not today!! I received some amazing customer service with an amazing rep! Super friendly, helpful, professional, happy, and intelligent. I typically don't leave reviews but I was so impressed with every aspect. I would ask for her help every time if I could!
Diana B.
Covered Member
"EMI Health takes great care of its customers! My claims are always processed quickly. When I called or emailed EMI Health with a questions related to my coverage I always get clear and direct answers. And the staff is very, very kind as well. Many thanks to all of EMI Health for quick, professional, and caring service!"
Anga C.
Covered Member
"If I said thank you a million times, it would just be able to scratch the surface for the gratitude I feel towards EMI Health. The time and energy EMI took has changed my life. I am truly thankful for everything the advocate team has taken care of on my behalf. You all are the definition of excellent customer service."